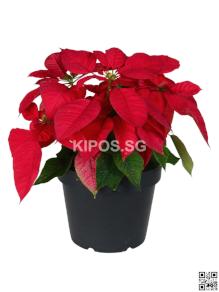 Red Poinsettia
Order today, and you'll receive your package between and .
The popular Christmas plant.
Legend tells of a girl who was too poor to provide a gift for the celebration of Jesus' birthday and was inspired by an angel to gather weeds from the roadside and place them in front of the church altar. Crimson blossoms sprouted from the weeds and became poinsettias. The star-shaped leaf pattern is said to symbolize the Star of Bethlehem, and the red color represents the blood sacrifice through the crucifixion of Jesus.

Estimated Height: 0 to 30cm 
Watering Required: Moderate 
Lighting Required:Partial Shade